Auto Accident Injury & Whiplash Treatment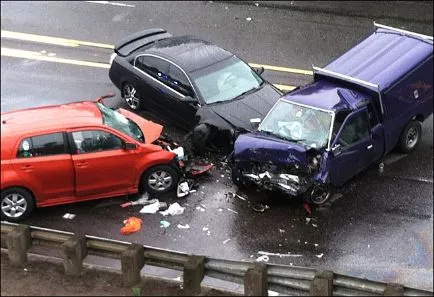 What Chiropractic treatment can do for you after the wreck:
Relieve pain, inflammation & muscle spasm

Restore normal range of motion in your spine and joints

Restore normal spinal alignment

Improve function of the whole body

Help you sleep better so you can heal faster

Get you back to work, sports, household and family activities without pain...

Reduce your chances of having a life long permanent injury
No up front payment expected with auto accident cases

-

we file insurance claims and all attorney paperwork directly so you can concentrate on getting well and getting back to normal routine.

If your vehicle is being repaired and you don't have a ride, we can provide transportation to our office.
If you have been involved in a car accident, whiplash injuries need to be taken very seriously. Because symptoms of a whiplash injury can take weeks or months to fully manifest, it is easy to be fooled into thinking that you are not as injured as you really are.
Too often people don't seek treatment following a car accident because they don't feel that hurt. By far, the most common injury to the neck is a whiplash injury.Whiplash is caused by a sudden movement of the head, either backward, forward, or sideways, that results in the damage to the supporting muscles, ligaments and other connective tissues in the neck and upper back.
Unfortunately, by the time more serious complications develop, some of the damage from the injury may have become permanent. Numerous studies have shown that years after whiplash victims settle their insurance claims, roughly half of them state that they still suffer with symptoms from their injuries. If you have been in a motor vehicle accident or any other kind of accident - Contact us today!
---
---
TESTIMONIALS:
June 23, 2014
"I was rear-ended in a car wreck and my lower back and neck was injured. I am also having knee problems. I feel better after each time I visit. I would like for them to know that the employees are great and make you feel comfortable and treat you with respect. They show they care."
Dominic F. - Bath, NC
---
September 4, 2014
"I had back and neck injuries due to a car wreck (Cervical spine fusion surgery). After treatment with Dr. Dirks, I feel much better !!! The services are great. Dr. Dirks is easy to talk to and doesn't mind explaining what services he'll provide and how these services will help a patient. The "Ladies" of Dirks Chiropractic are exceptional, always with a smile and very professional".
Martina L. - Washington NC
---
"I was in a car accident with my wife and was treated at Dirks Chiropractic in Winterville. Dr Dirks uses relaxation therapy in the form of simply asking you the right questions and takes the "awe" out of the "Dr and client relationship" which causes a more professional but yet a more trusting friend type of caring. I recommend Dr Dirks to all."
Jimmy D. - Greenville NC
---
July 3, 2013:

"I want to thank you for all you've done for me, you have been a huge help in my process of healing after my car wreck, thank you! ...I'm going to do the exercises you have instructed me to do take my meds and try and rest drinking water and cut out the sweets again I thank you !"
Eugene "Happy" G. - Washington, NC