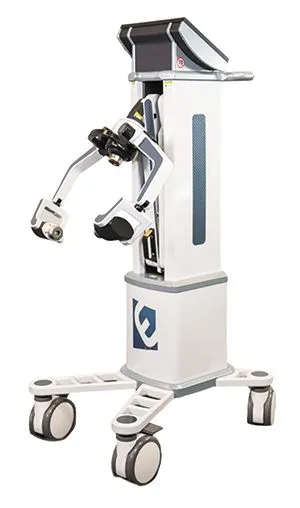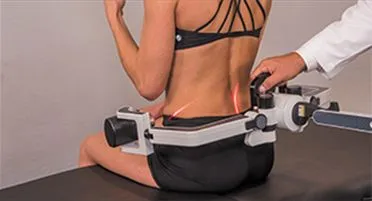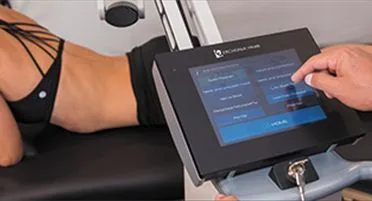 INTRODUCING ERCHONIA'S FX635 LASER
The world's only laser designed and FDA Market Cleared to relieve chronic low back pain of the musculoskeletal origin and relieve the pain and inflammation of the heel associated with plantar fasciitis. Our FDA market cleared laser has successfully been proven in multiple Level(1) clinical trials to effectively treat these painful conditions. The pain-relieving, healing powers of this low-level laser technology can reduce inflammation and eliminate pain to help your patients return to their active lifestyle in only a few weeks.
Unlike other lasers on the market, the FX635 is proven to promote cellular function through painless bio-stimulation. The revolutionary design of the FX635 Laser allows for dependable positioning of the three patented laser diode arms perfectly to target these pain conditions. It provides patients experiencing chronic pain with an on-invasive, efficacious solution to quickly improve comfort and quality of life without surgery or harmful NSAIDS or opioids. While other lasers may claim to offer relief, only the FX635 has been FDA market cleared for these conditions.
FIRST AND ONLY CHRONIC LOW BACK PAIN LASER
Discover the only laser on the market for the treatment of chronic low back pain. Our new FDA market cleared laser has been proven in double-blind, placebo-controlled, randomized, parallel group, multi-center clinical trial to effectively treat this painful condition. The participants of the FX 635 Clinical Trial showed a 58% pain reduction at 2 month follow-up evaluation. This trial went on to demonstrate that the FX 635 is successful in the treatment of chronic low back pain. The recent clearance of the FX 635 is groundbreaking for the pain management community and the war on opioids.
HOW DOES FX 635 WORK?
The FX 635 uses low-level laser technology and patented laser diode arms to precisely target lower back pain centers. It reduces inflammation while promoting bio-stimulation at a cellular level in the musculoskeletal point of the pain's origination. Unlike other lasers that are too strong and unreliable — and produce unwanted heat — the FX 635 is fully compliant with ISO 13485 Medical Device Quality and IEC 60825-1 Laser Safety.
Patients with chronic low back pain who choose FX 635 treatment experience improved comfort and quality of life without the risks associated with the side effects of opioids and nonsteroidal anti-inflammatory drugs — or NSAIDs — that can cause ulcers, bleeding, kidney disease and heart attacks.
FURTHER BENEFITS OF LOW-LEVEL LASER FOR BACK PAIN
In addition to the FX 635's qualities as a drug-free, non-invasive option for lower back pain treatment, patients and physicians turn to it for the following benefits:
Works in conjunction with other treatments: Low-level laser treatment for lower back pain can supplement other traditional treatments for the condition, such as chiropractic or massage/muscle stimulation. Because the FX 635 helps patients return to an active lifestyle, other treatments that work on positive muscle stimulation work in unison with its healing effects.
A viable option to surgery: Low-level laser therapy provides a far less physically intrusive option for low back pain relief. In addition, without the recuperation period associated with post-surgery recovery, the FX 635 allows patients to feel comfort and relief much faster than they do during the often painful and long recovery period associated with surgery.
Targeted relief: The FX 635 — equipped with the highly accurate positioning of its laser diode arms — goes to work on the precise location of the pain's origin. Unlike prescription medications that can have harmful side effects on other organs in the body, the FX 635's ability to precisely target and treat pain centers means the only action that occurs during treatment is the painless bio-stimulation of the affected areas. This, in turn, leaves the patient's body better able to recover and return to an active lifestyle.
A GROWING OPPORTUNITY
Today, chronic pain affects more Americans than diabetes, heart disease and cancer combined. 50% of all working Americans admit to having back pain symptoms every year. In fact, back pain is one of the most common reason for missed work. It is also the second most common reason for people to consult their physician. It has been estimated that Americans spend as much as $50 billion each year in search of relief to back pain. Discover how the FX 635 can provided lasting relief for your lower back pain at a reasonable cost.
FEWER TREATMENTS. MORE TIME
Thanks to its triple-head, hands-free design, the health care professional just has to set up the FX 635 and go. Treating chronic low back pain has never been easier.
Treating chronic low back pain has never been easier.
1) Patients lay face-down on the examination table or sit in a chair, the three FX 635 laser diode heads are adjusted to the area.
2) The touch pad is set for the low back pain setting protocol.
3) The lasers are checked to be in proper alignment for low back pain or other condition being treated.
4) The FX 635 laser works while you rest comfortably.