The Benefits of Electrical Muscle Stimulation
People around the country deal with chronic pain, inflammation, and tension – often due to a personal injury to the muscles. When this happens, relief can often feel far away, but it isn't. It can be found through natural methods like electrical muscle stimulation provided at Dirks Chiropractic in Greenville.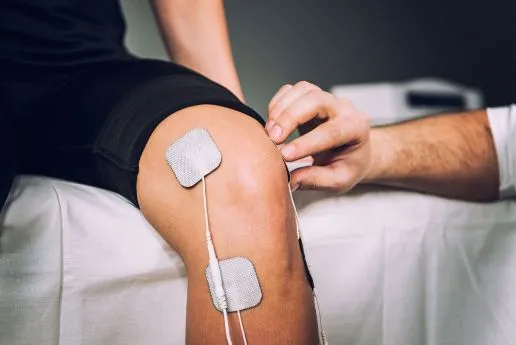 What Is Electrical Muscle Stimulation?
Electrical muscle stimulation is a therapy that is also referred to as "E-stim." E-stim is often provided in Chiropractic care to treat chronic / acute pain and tension. During this therapy, electrodes are attached to the skin and send electric pulses to the target area. These pulses cause the muscles to contract. As the contraction occurs, blood is pulled to the area, which helps to speed up recovery. It also stimulates the nerves as well as encourages the body to release endorphins, which are the body's natural pain-relieving chemicals.
What Conditions Does It Treat?
E-stim is an effective method of relieving pain and discomfort by inducing the body's natural healing process. It can also reduce muscle spasms. Due to its various benefits, it has helped many patients through the following conditions:
Back pain
Neck pain
Shoulder pain
Whiplash injuries
Arthritis
Fibromyalgia
Joint pain
Sciatica
Muscular atrophy
Inflammation around the nerves
Multiple sclerosis
Healing after surgery
Is E-Stim Right for Me?
Electrical muscle stimulation can help you through a variety of issues. However, the best way to know for sure if it's the right choice for you is through a visit to Dirks Chiropractic. After a full evaluation of your condition, symptoms, overall health, and goals, a personalized treatment plan will be developed. Often, this will include various treatment methods to ensure the best results.
For example, if you have experienced a personal injury to your back, E-stim might be utilized in your treatment, as well as spinal adjustments / manipulation, spinal traction, therapeutic exercises, and more. Each of these treatments is effective, but combining several techniques is often the most effective way to achieve lasting results.
Treat Chronic Pain with Chiropractic Care in Greenville, NC
You don't have to live with chronic / acute pain and inflammation. You can beat it through natural methods with the help of our Greenville Chiropractor, Dr. David Dirks. Schedule your pain relief appointment at Dirks Chiropractic by calling our team today at (252) 751-0660 or reach us through our website by using our online contact form.