Disc conditions can cause an extreme level of pain and can make it difficult to complete even the simplest movements. Often, people feel the only solution to treat a disc condition is surgery. Chiropractic care offers a safe, non-invasive, and effective treatment option that can help alleviate the pain and discomfort associated with disc conditions. Our chiropractor at Dirks Chiropractic can evaluate and begin treatment so that your disc condition can heal. Let's take a look at some common disc conditions and how our chiropractor can help.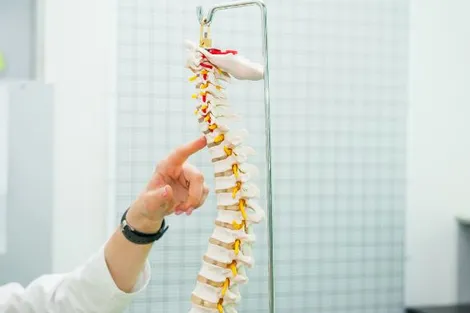 Common Disc Conditions
The discs are a part of the spine that works as cushioning devices, helping to absorb any impacts as the body moves. Usually, the discs are doughnut-shaped and filled with a liquid-like jelly that compresses with impact. Sometimes though, the walls of the disc can become brittle and rupture, creating an ongoing disc condition.
Disc conditions are typically either chronic or acute. An example of an acute disc condition would be an injury sustained through an accident. This can be an accident or injury that results in a direct impact on the disc. Chronic conditions usually develop over time. Several degenerative disc conditions cause the walls of the disc to become thin and brittle, resulting in tears and ruptures that allow the cushioning gel to escape. Herniated and bulging discs are common disc conditions.
Disc Condition Symptoms
Pain experienced with a disc condition can be mild and aching, or severe and stabbing. Depending on the location of the disc injury, you may experience pain in your extremities as well. Disc conditions in the upper spine and neck will often result in numbness and tingling in the shoulders, arms, and hands. Disc conditions in the lower spine will often result in these symptoms in the buttocks, legs, and feet. A person may feel more clumsy than usual or may find themselves frequently dropping objects.
Chiropractic Care in Greenville NC
The team at Dirks Chiropractic is here to help treat your disc condition so that you can live a pain-free life. Our team is caring, knowledgeable, and believes there is no one size fits all treatment plan. To learn more about how we can help, or to set up an appointment, call our Greenville office today at (252) 751-0660. We are happy to accept new patients and are eager to help you recover.